ABS Sheet, also known as Acrylonitrile Butadiene Styrene Sheet, is a strong and adaptable plastic type frequently employed in construction works. It is renowned for its exceptional strength properties, being chemically stable and withstanding high temperatures to a great extent.
Several research reports suggest that the marketplace for manufacturers of abs plastic sheet is expected to expand. According to data from Global Market Insights, between 2016 and 2024, the demand for plastic sheets of ABS and corresponding products would expand at a yearly average growth rate of 6%. More precisely, in 2015, there were 22.3 billion US dollars for ABS plastic. Moreover, it is expected to increase to 38 billion US dollars by 2024.
Since ABS plastic has a molecular structure that results in a comparatively low melting point and a lower temperature at which glass transitions, it can be quickly melted and shaped using an injection molding process. The fact that ABS may be continuously melted down and rebuilt without suffering major chemical breakdown indicates that the material is recyclable.
Various industries using ABS plastic sheets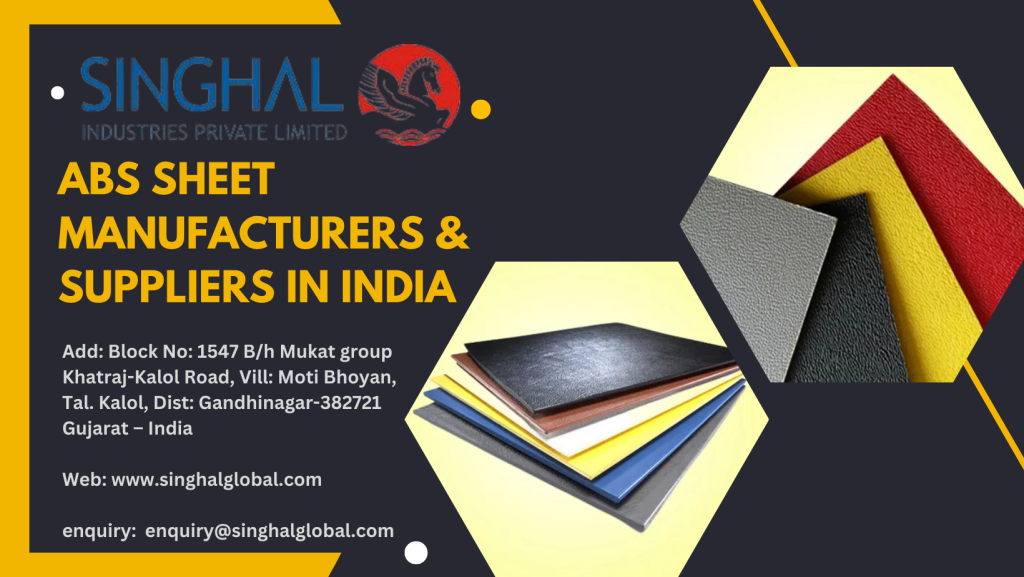 In India, the manufacturers and suppliers of plastic sheets made of ABS strongly emphasize giving each client the finest ABS plastics that may be used in various applications according to the company's particular budget and requirements. The ABS sheet comes in various customizations within abs plastic sheet 4×8 and colors that offer excellent protection against dangerous UV rays. Below are the various sectors where plastic sheets of ABS are essential.
3D printing in architecture
Since ABS plastic has a relatively low melting point, it is frequently used in sophisticated 3D printers. Plastic sheets made of ABS are more popular among 3D printing experts than Polylactic acid (PLA). The fundamental reason for this is that PLA has a lower melting point, which causes it to become constrained in hotter climates. The strongest and least susceptible to damage among plastics is ABS, which has many advantages over PLA plastic.
ABS material is lighter in weight than other kinds of plastic. As a result, the weight of automobiles has decreased by 10%, increasing fuel efficiency. This characteristic particularly impacts vehicles made of ABS or comparable polymers. ABS plastic sheets are frequently used for dashboards, wheel covers, and body pieces due to their durability, great durability to low temperatures, and surface texture that avoids easy scratching.
Equipment and Fittings for Plumbing
ABS sheets are better for the piping system and fittings necessary for plumbing work than other metals or polymers. It is lightweight, portable, and less likely to decay, mildew, or degrade while collecting garbage. If you are considering PVC, it is better to change to plastic sheets made of ABS, as it guarantees durability and offers protection to rupture under harsh environments.
Production of machine prototypes
Unlike other polymers, ABS is available for purchase. Because plastic sheets are so simple to shape, they are employed in the welding business to create samples of ABS sheets. Sheet of abs plastic make painting easier than other types of plastic. To create designs, ABS Embossed Sheets may also provide a smooth visual appearance. As they offer affordable alternatives, industries frequently employ ABS plastic to make additional models.
ABS sheets are the most popular polymers used in building electric vacuums and their components. Compared to other forms of plastic, this sturdy sheeting is built with some strict qualities that survive a long time. In addition to white, black, and other unique colors, the heavy-duty plastic sheets of ABS come in other colors. This large sheet also has a sensitive layer texture with a patterned appearance to prevent scratches and prepare for heavy usage.
Applications in the medical industry
The medical industry is also very popular with ABS resins as they are cleaner and more ecologically friendly than other polymers or plastics. Moreover, sheets of abs plastic have excellent integrity, high brightness, minimal leftover polymer content, etc. They are the ideal choice for creating the following medical devices because of all these characteristics: compressors, medication delivery devices, nebulizer treatments, and more.
Conclusion
ABS is among the simplest plastics to use, manufacture, dye, sand, attach, or otherwise modify since it settles down and solidifies, leaving it reasonably easy to handle. In addition to being extremely chemically strong, ABS sheets are a great material for building projects where chemical contact is a risk. Because of its resistance to various chemicals, particularly acids, volatile compounds, and bases, it is the perfect material to use in large factories like chemical plants, labs, and other similar locations.
In addition to being simple to use, it is the perfect option for various applications. Businesses that produce plastic sheets of ABS might have a stronger position for expansion and performance by being aware of market trends and growth prospects in the plastic industry.