PP Woven bag are considered extremely useful for storing and transporting different kinds of items. These bags are supposed to be the hardest packaging bags. These bags remain in high demand in various types of industries like sugar, grains, milling, and food.
What is PP woven fabric?
PP woven fabric, which is also known as Polypropylene Woven fabric. PP Woven bags is always available in laminated and also in without laminated form. These are mostly utilised in industries like Bag manufacture, Fertilisers, Cement, Polymers, Chemicals, Textiles, Machinery, and Food grain packaging.
At Singhal Industries we feel pleased to introduce ourselves as an ISO-authorised PP bag manufacturer, distributor, and exporter. Our bags are used as packaging materials in different types of industries. Also, our PP Woven bags are ingenious and highly stable in the packaging business.
These bags are excellent options to pack dry materials of 30-50 KG. These bags are manufactured from polypropylene woven cloth which has outstanding strength and is less likely to impale.
What PP woven bags are used for?
PP Woven bag are used for the construction of temporary tents, making various travel backpacks, Cement sacks, Potato bags, Onion Bags, Salt Bags, Flour bags, Rice Bags, etc.
What is the GSM in PP Bags?
The GSM stands for Gram per Square Meter. Across GSM one can measure the weight of cloth in Gram per One Square Meter.
How many types of PP bags are available?
These bags are primarily utilised to store and carry numerous products which include grains, animal feed, and fertilisers. Below mentioned are the top 5 types of PP woven bags.
PP Woven Plain Bags: As the name indicates, plain PP woven bag are simple PP bags manufactured from pristine plastic. These kinds of bags have increased properties like lightweight, tear resistance, and stability which makes them a comprehensive choice to store sugar, animal feed, grains, etc.
PP Liner Bags: Those bags which have a liner in the inner part are called PP Liner bags. These PP Liner bags are a perfect packaging option for products that require increased safety.
PP Laminated Bags: When you cover the plastic bags with an extra layer of poly film, then these bags are known as PP laminated bags. The bags have increased tear stability, temperature friction, and anti-toxicity properties which makes them ideal bags for storing and carrying.
Gusseted Bags: These kinds of PP bags have an extra piece of material that is enlarged to bolster the bag's volume or capacity. Moreover, the flat surface of the bag facilitates the bag to endure without any outer assistance.
Bopp Laminated Bags: It is a layer that is strengthened as an additional layer to the PP woven bag to maintain their durability. BOPP laminated bags have improved stability and are outstanding and dependable. These bags are largely used to stock and transport multiple items containing grains, animal feed, and fertilisers.
Read More : –  Think you should know about PP Woven bags
How are PP Woven Bags Different?
What are the Benefits of PP Woven Bags?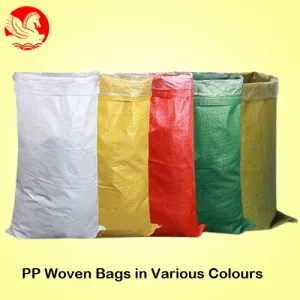 The attributes of PP Woven bags make them very beneficial in the packaging industry. We have noted below the primary factors of these bags.
The price of these packaging is much cheaper in comparison with other types of packaging bags. The polymer is itself cheap which is why the cost of packaging bags remains lesser.
These Bags are non-toxic which stimulates an enormous span of different uses. Also, these bags are utilized in Food Industries and medication industries due to their non-toxic behavior.
The weight of these PP Woven Bag Is extremely light which makes them exceptionally sturdy.  Although these bags are very light in weight they can still hold a thousand pounds of stuff.
Invulnerable to any Type of Chemicals
There are no effects of bases, acids, and different kinds of chemicals on these PP Woven Bags. So we can use these types of bags in the therapeutic formulation.
What are the Different Usages of PP Woven Bags in various Sectors
For Packaging Agricultural Products
PP Woven bag are generally utilised to deal with and allocate various agricultural farming products like Foods, Fruits, Fishery Products, Vegetables, etc. Numerous types of PP Woven Bags are utilised in the agriculture sector. If we talk about the largely utilised PP Woven Bags in the agriculture sector then these are Vegetable Woven Bags, Fruit Mesh Bags, and Fertilizer PP Woven Bags.
PP Woven Bags cloths are primarily used in developing irrigation buildings, highways, water dams, railways, mining, and building among different things.
PP woven bags are mostly used for food product packaging. These bags are very excellent bags for food packaging due to their high resistance against chemicals and excellent wear and tear strength. PP Woven Bag are assembled from PP woven fabric and are used to store and transport various food products. Some of the main types of Woven Bags are Rice PP woven bags, Flour PP woven bags, and maize PP woven bag.
What are the procedures Involved in any Woven Bag?
There are three main stages in the process of manufacturing a Woven Bag.
Tape Manufacturing
Film Extrusion
Winding Manufacturing Process
PP Woven bags are formulated and engraved to fulfil the requirements of the clients. The colour mixture, features, Volume capacity, and message differ from consumer to consumer.
Are woven PP bags eco-friendly?
Yes. These bags can be melted and recycled into various products. What's more, a standard PP Woven bag lasts 4 to 5 years when used appropriately—certainly long sufficiently to be used numerous times to help reduce demand for single-use products.
Can We do Print on these bags?
Yes, the brand name or a message can be printed on, so they are excellent for branding.
Best PP Woven Bags Manufacturer in India
There are different manufacturers available in India who create these types of PP Woven Bags. Singhal Industries is an extremely well-known and best brand amongst others for PP Woven bags and manufacturers in India. They have a group of industry experts and always meet the client's requirements accordingly. In today's article, we get to know about PP Woven Bags.
Read More : –  PP Woven Bags and PP Leno Bags: The Major Differences