A large variety of poop bags are available in the market to suit the diverse needs of different dog owners. Since not all dog poop is the same, you will need different types of Dog Poop Bags. These bags make the poop removal process a bit more pleasant, and different types of them come with different features.
You must consider these varied features and factors to choose the right poop bag.
Scented or Unscented
Stools emit a bad odor. If you want to protect your nose from it, you may either use a mask or scented Dog Poop Bags. Different types of scented poop bags are available, such as the ones with a dispenser that you can attach to the leash with a hook at its rear. Also, make sure that you get refill rolls along with it. These fit well to the dispenser and are easy to open.
If you do not like dispensers, alternatively, you can choose the 'grab and go' bull packs. Disperse it in the garbage bin or keep it in your garage, as you wish. You may also use ones with a handle. All these poop bags are also available in an unscented variety. You may also choose them if you are sensitive to fragrance.
Factors to Consider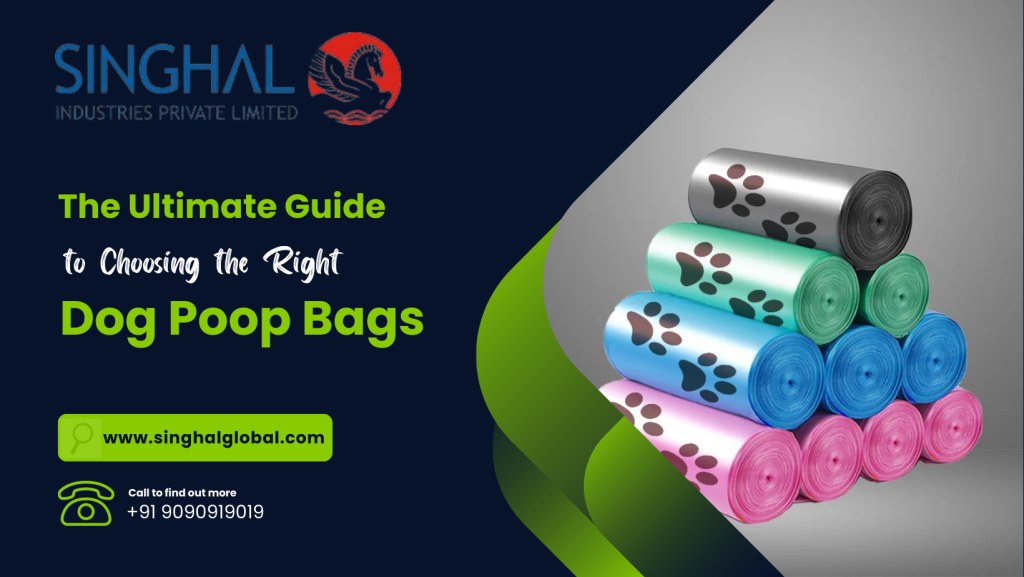 With such a large variety of Biodegradable Dog Poop Bags on display, choosing the right one is tricky. However, it is not very hard to separate the best from the rest if you consider the following factors:
Thickness
Toughness
Leakproof property
Size and Variety
The next important point to consider is the variety and size of the bags. Ideally, you should buy bags that will suit your purpose. You can typically choose from the three following variants:
Standard: You may use the standard poop bags. The beneficial factors of these rectangular bags are:
Easy to use and open
Suitable for almost any kind of dog
Quite big
With handles: These bags are typically suitable for larger dogs that excrete a more significant amount of waste, and are usually:
Wider
Easier to tie and
Simpler to dispose of
Extra-large: These bags are suitable for even larger dogs to hold more waste and are:
Larger
More durable
Thicker
Environmental Concern
If you are concerned about and responsible towards the environment, just as you are to your pet, you may consider using biodegradable Dog Poop Bags. These bags can be 'recycled,' 'biodegradable,' and 'compostable.' If you are not aware, this is what they really mean:
Recycled: These bags are not made from new or virgin plastic but from recycled material.
Biodegradable: These poop bags decompose much more easily, quickly, and organically than non-biodegradable bags.
Compostable: This is an eco-friendlier option since these bags are made from derivatives of corn starch.
Even if sellers advertise their Dog Poop Bags to be eco-friendly, how exactly they are is quite debatable. This is because most of these bags today are available in non-recyclable, single-use, and non-degradable plastic material. These are heavy-duty, low-price, and anything but environmentally beneficial.
Bisphenol A Free
If you want to use biodegradable poop bags, ensure they are free of harmful chemicals, such as Bisphenol A or BPA.
Compatibility
This is quite an important factor to consider, especially if you are also using a dispenser. Ideally, both the bag and the dispenser must be compatible.
You can check compatibility from the descriptions of the poop bags and the dispenser. Mostly, the compatibility factor translates to the type and size of the poop bags.
ASTM Rating
Knowing the ASTM rating of the material is another crucial factor to consider, which is, however, unfortunately, overlooked by most buyers. Knowing this rating will help you if you are serious about compositing.
Price and Quantity
The price of the product should not be the only deciding factor. You must consider the quantity of bags you receive for the specific price.
Since there is no guarantee that you will need only a bag a day, it is good to avoid putting yourself into a bargain. You will certainly not like to run out of them quickly.
Consider the durability and quality factors without compromising on their price.
Conclusion
Whether you choose eco-friendly or regular poop bags, ensure you do not compromise the quality of the product. Always get it from a reliable supplier and thoroughly research it before finalizing it. With a little effort put in now, picking up and cleaning dog poop will be a pleasant experience.