Polypropylene bags or PP Woven Bags are known for their extraordinary aspects, such as they are sturdy, customisation, adaptable, printable, low-cost, recyclable, etc. But apart from all these aspects, the material possesses another specific property that makes it the cleanest packaging material and that property are environmentally friendly. PP Woven Bags is an environs-friendly material, and this is a crucial factor that people in diverse industries consider when selecting a packaging material. Eco-friendly materials contribute little to environmental pollution.
Benefits of PP Woven Bags
Spill-proof packaging solutions for items like grains, sugar, fruits, vegetables, and tea, are very crucial for the Indian Market. In all these circumstances, PP woven sacks have proven to be very effective in domestic use and exports.
Here are the top benefits of picking PP Woven bags for your bulk packaging needs: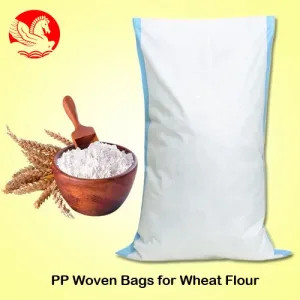 PP woven bags have Adequate Mechanical Properties
All of the PP Woven bags have adequate Mechanical Properties that can safely pack products to store them for long-term and long-distance transportation. These bags are anti-microbial, and weather-resistant along with adequate tensile properties. Moreover, pp woven sacks are also facilitation to grain metabolism due to their active property of dissipating moisture and temperature. Which makes these bags a perfect choice for bulk packaging of food grains.
Another aspect where PP woven bags score big is durability. They are resistant to abrasion and bending, acids, and organic solvents, but need to be preserved away from dealing with abuses such as oks, park insertions, etc. They have outstanding tensile resilience and elongation resulting in expanded drop impact stability and anti-slip tendencies.
The above advantages lend another advantage to PP woven bag and that is re-usability which brings them very cost-effective. They are non-staining and can be cleaned effortlessly for multiple uses. The abundant and comfortable availability of raw materials, simple production, and aggregation make them economical. Operational comfort and higher stability in piling make secondary packaging like parallelisation, etc. easier adding to the overall cost-effectiveness.
Read More : How PP Woven Bags are Made and Their Uses?
Updates on Types of PP Woven Bags
Design Options for PP Woven Bags are Numerous
The PP Woven Bag can be modified with side gussets for bulky items and cut to size for extraordinary products. The versatility in the bottom and top construction means it can be developed to suit any filling and discharge mechanism. Similarly, various other alternatives like polyethylene liner or external lamination can make them perfectly fitted to other products also. For example, cement PP sacks are laminated with microscopic holes developed in them to let the air out while filling.
Advertising is better with PP woven sack
As PP Woven Bag  come with printable with high-quality graphics so advertising can be done in a better way. You can choose from different colours, designs, and sizes to get your company logo printed on the bag's texture. The publicity of product packaging influences customers and is a perfect marketing endeavour. PP Woven Bag' lamination takes the game further. Also, they have good aesthetics and visibility too.
PP woven bags Comes With Safety and Reliability
PP Woven bags follow both international and Indian standards of safety and trustworthiness. It has the Central Food Technological Research Institute (CFTRI) certificate for the raw materials utilised in viewing the safety of food contact applications. Also, the Industrial Toxicological Research Centre (ITRC) has approved PP woven bags as suitable and meeting all the Physic-chemical and biological tests required for food grain storage.
Sustainability is a crucial deliberation in the life cycle of packaging items. Woven polypropylene bags are an environmentally-friendly option since they can be reused numerous times. They are completely recyclable and are often softened down and made into new products, once they serve their bulk packaging uses.
We know that these PP Woven Bags are utilised by various industries like Agriculture Industry, Food Industry, Cement Industry, and Chemical Industries. These bags are utilized to store the materials. But even after storing the materials, these bags remain very lightweight. This is a major benefit of PP Woven Bags.
This PP Woven bag has a feature of high breaking strength. By utilising these bags you can always remain confident about the quality of these bags.
Good resistance to chemical eroding
PP Woven Bags are reluctant to base chemicals and various acids. So the PP Woven bags can be used in the antidote formulation.
Excellent Non-Toxic Behaviour
Each PP Woven is non-toxic which stimulates an enormous span of alternative usage. Also, these bags are used in Food Industries and pharmaceutical industries due to their non-toxic demeanour.
Good electrical insulation
PP Woven bag remain unexpected against any type of electrical conflict. These bags are supposed to be very good electrical insulation.
Polypropylene oven bags are known to be eco-friendly. The expense of these bags is very low. The polymer is itself cheap which gives overall access to those products which are established on polypropylene.
These PP woven bag possess great tear strength which enables them to carry heavyweight materials efficiently.
Highly Resistant to Chemicals
All of the PP Woven bags are developed from a substance that is highly unwilling to chemicals. Which makes these bags an ideal option for stocking and transporting chemicals.
Reusable and Highly Durable
Polypropylene Woven bags are reusable and also highly powerful which makes these bags lesser pollutant while comparing with other bags which are used for packaging the materials.
Resistant Against Any Type of Climate
PP Woven bag are also very useful to use in all sorts of weather. Whether it is cold, heat or humidity these bags don't get impacted by any of those. That is why it is the very best option to store and carry chemicals, detergents, etc.
Every PP Woven bag is unwilling to use most acid-like alkali. This makes this bag an excellent choice to store various types of chemicals with ultimate safety.
These inherent benefits in functional performance and cost benefits are proof that you should contact a polypropylene bag manufacturer without delay.
Selecting the right polypropylene bag supplier for your product can boost your business in many quantifiable ways. All you need to do is dictate your needs of usage, desired size, and estimated order quantities, and witness the best in storage and transportation of commodities. Singhal Industries is one of the best PP Woven Bag  manufacturers in the country. You can always trust on the quality of their products.
Singhal Industries is leading PP Woven bag manufacturers in the country. Not only in India but they also deliver the bags in United States, United Kingdom, United Arab Emirates, Australia and Canada.
Read More : Do You Know What the PP Woven Bags Are?