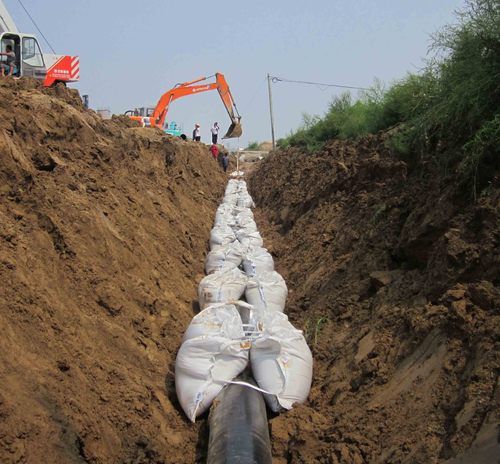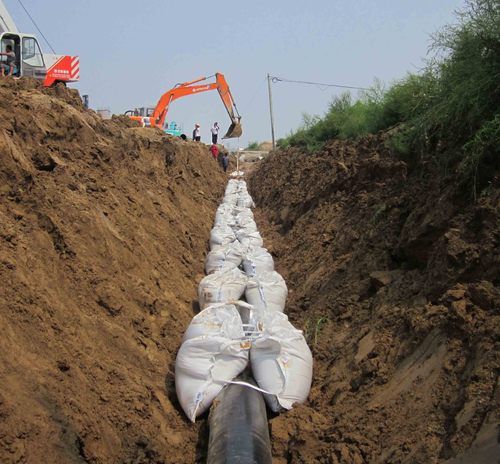 Pipeline Weight Bags
Singhal Industries one of the leading & well-known manufacturing company for producing Pipeline weight bags. It is produced with advanced pipeline laying technology. Pipeline Weight bag also known as Weight bags, pipeline bags, geotextile weights bags, saddle weights bags, pipeline saddle bags.
Pipeline weighting was first invented in 1900s to halt submerged pipeline from floating in rivers, foreshore, swamp where installed pipelines are weighted down with ballast to achieve negative buoyancy of pipelines. It is made from the very heaviest grade polypropylene fabrics having characteristics like corrosion-resistant, non-pollutant etc.
Pipeline weight bags made from non-biodegradable polypropylene fabric & it is filled with pebbles therefore it is not attacked by acidic soil, it is permeable to groundwater & supports cathodic protection & it is used to control the buoyancy of the pipeline. Geotextile saddle bags are buoyancy control & it allows pipeline to move slightly still it will not damage to corrosion coating & maintain negative buoyancy.
Geotextile saddle weight bags are very safe and durable as it is made heaviest grade fabric, high gsm & ASTM tested. These pipeline weight bags are easy to install as local gravel used to fill the weight bags. It can be installed & released with a single lift hook & do not require man power to place them in trench & these hooks can be easily removed from top of ditch. Pipeline weight bags are very economical, cost effective & reduce the handling cost due to use of local gravel.
These geotextile weight bags are the alternative of the regular traditional pipelines weighting like cement press product & concrete coating. It can be used in various types of pipelines steel & plastic, oil, fibre glass water & gas.
Our professional quality team very much ensures that bags are manufactures with strict measures of quality control by following international standards.
High GSM & Heaviest Grade Fabric
No Risk of Coating Damage
Construction Period is shortened
UV treatment of fabric
High tensile strength, corrosion resistant & non pollutant to water
Most stable polymer
Shallower trench Depth & also require less trench for dewatering
Without entering excavation can install on pipeline
No loss of water-soluble plant nutrients from the soil
It is suitable for both wet & dry soil
It will not damage to pipe during installation
It can be installed without any tools or bolts
If required can be remove very smoothly
Install & Release without man power in the trench
Economical & Cost Effective
Freestanding after filling
Environment & Pipeline Friendly
Safe, Durable & Stable Design
Reduce handling & transportation cost as local gravel used for as ballast
Landfill liners
Dike Liners
Synthetic grass for athletic fields
As per customer we will define Carrier Pipe size, Wall thickness, pipeline weight, filled weight etc.
Reviews from Our Customers
Pipeline weight bags produced by Singhal Industries are of best quality with hassle-free delivery. I become regular customer for the products of Singhal.
I found this company from IndiaMart. The staff communications and serives are best. They are very professional and answer all our queries. Best company to deal.
Search lot of manufacturer for Pipeline weight bag and finally got the Singhal. Thank you for great bags!
I purchased geotextile saddle weight bags and found very durable.