The Ideal Packaging Of Fresh Farm Products Is Leno Mesh Bags
Produce and other niche markets seem to be the most common applications for Polypropylene Woven Mesh Bags. Halsted has a range of shades and
Everything You Need to Know About Warning Tapes
The safety of a workplace is the most critical factor to look after. Keeping your workers safe is the most crucial thing. If the
Nine Factors Why Polypropylene Should Be Used in Your Upcoming Food Packaging Venture
Introduction Polypropylene is a transparent, shiny material with excellent strength properties and rupture tolerance. It possesses moderate resistance to moisture, fumes, and smells that
Produce and other niche markets seem to be the most common applications for Polypropylene Woven Mesh Bags. Halsted has a range of shades and
The safety of a workplace is the most critical factor to look after. Keeping your workers safe is the most crucial thing. If the
Introduction Polypropylene is a transparent, shiny material with excellent strength properties and rupture tolerance. It possesses moderate resistance to moisture, fumes, and smells that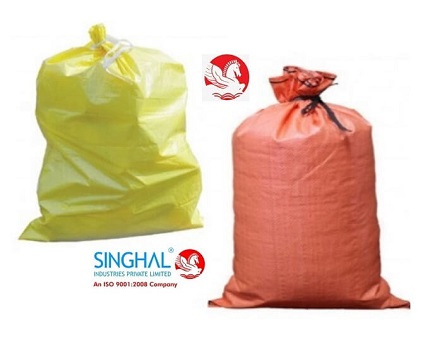 If you work in the food manufacturing and packaging sector, you are probably already familiar with the significance of properly packaged foods and their
Leno Bags, commonly known as Leno Mesh Bags, are widely used for wrapping a wide range of agricultural items such as shallot, ginger, potato,
Polypropylene, often known as polypropene, is a thermoplastic polymeric material that comes from the polymerization of propylene. It's a solid substance that's exceptionally chemically
" We are a regular buyer of Leno Mesh Bag from Singhal Industries. We are very much satisfied with the quality they maintain. Highly Recommended."
Faisal, Sarjah
(UAE)
Quality is my first priority but price matters too for me. Here at Singhal Industries along with quality products, price is also very affordable. From my bottom of my Heart, Thanks to Singhal Team
Robert, Houston
( USA)
I would say Singhal Industries is one of the best manufactures of PP Woven bags in India. They have understood my requirement & designed the product as per my requirement. Excellent service, quality product, very good response from the Marketing team. Hats off to the whole team of Singhal Industries
Niel, Liverpool
(UK)
I received the PP sheets in perfect sizes & colors as per my requirement. Bulk delivery they have done in a very short period of time. I really appreciate the prompt delivery by Singhal Industries. Thanks once again!
Richa, Delhi
( India)
We are one of the leading Underground Piping Contractors in Africa & we need in bulk quantity detectable underground warning tapes & Singhal Industries fulfilled my needs very easily. They are providing one of the best quality underground warning tapes. They provide us custom tapes of various sizes, designs, colors & language. The printed warning message looks fantastic. Good job by all team & special thanks to the marketing team who explained all the things & process in detail and offered the best rate too
Adan, Newcastle
( South Africa)